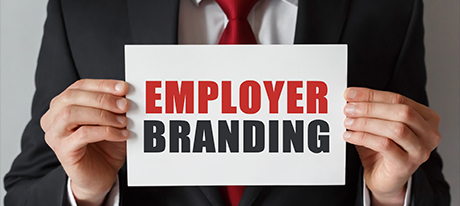 Wat is Employer Branding?
Met het employer brand wordt de reputatie en het imago van jou als werkgever bedoeld. Het gaat erom dat je als werkgever ervoor zorgt dat je een authentieke en onderscheidende voorkeurspositie krijgt en behoudt in de mindset van (potentiële) medewerkers en hun beïnvloeders.
Het versterken van je employer brand moet je dus onder andere zien als een middel om talent aan te trekken en te behouden. Hierbij zijn authenticiteit en onderscheidend vermogen van groot belang: wat maakt jouw organisatie bijzonder om voor te werken en hoe vertel ik dit (eerlijke!) verhaal aan de buitenwereld?
Tegenwoordig gaat employer branding meer over duurzaamheid, goed werkgeverschap en maatschappelijke betrokkenheid, in plaats van het in de markt zetten van jouw product of dienst of secundaire arbeidsvoorwaarden aanhouden. Employer branding is een grondig onderdeel van recruitment. Je kan als werkgever goed laten zien hoe je omgaat met veranderingen. Uit onderzoek van LinkedIn is gebleken dat de betrokkenheid van kandidaten stijgt, naarmate werkgevers actief handelen bij actuele maatschappelijke thema's. Bijvoorbeeld in de huidige tijd met de coronapandemie is het belangrijk dat werkgevers een veilige werkplek aanbieden, om aan te tonen dat zij om de veiligheid van werknemers geven.
Hoe pak je dit aan?
Het gaat er niet om dat je communiceert dat je een geweldige organisatie bent, maar dat de boodschap die je uitdraagt aansluit op wat je daadwerkelijk bent. Je begint daarom intern. Praat met je werknemers. Wat vinden zij belangrijk? Hoe is de werksfeer? Wat spreekt hen aan en waar zijn ze kritisch op? Ga in gesprek om te zien of je voldoet aan de wensen van je werknemers en de Employee Value Proposition (EVP) te bepalen.
Employer Marketing
Employer Marketing is het effectief in de markt zetten van jouw Employer Brand. Dit is waar Yoores zeer sterk in is en ruim 10 jaar ervaring mee heeft. Employer Marketing vormt het geheel van activiteiten om dit te doen en begint bij het vaststellen van de Employer Value Proposition (EVP). Vanuit de EVP wordt de employer branding strategie opgesteld. De eerste stap hierna is het bouwen van een werken-bij site welke op adequate wijze de EVP weergeeft. Tevens wordt getoetst of de Candidate Experience in lijn is met de EVP.
Wil je meer informatie over dit onderwerp of onze diensten? Neem dan contact met ons op via de onderstaande gegevens, wij helpen jou graag!
Daniëlle Noordeloos
Online Campagne Marketeer

Yoores Recruitment Solutions
Empowering Recruitment