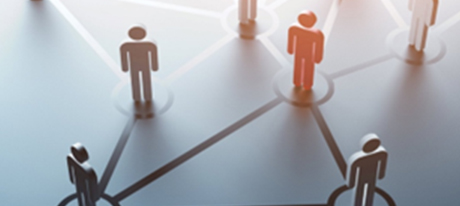 Voorbeelden van via-via netwerken zijn eigen netwerk, het netwerk van huidige- en oud-werknemers en social medianetwerken. Niet alleen recruiters, maar ook werkzoekenden vinden hun eigen netwerk het belangrijkste middel om een nieuwe baan te vinden. Daarnaast blijven kandidaten die via deze werving starten vaak langer in dienst bij een organisatie. 46% van de kandidaten die via referral zijn geworven blijven langer dan een jaar in dienst, tegen 33% van mensen die via reguliere uitingen geworven zijn.
Referral Recruitment zorgt voor een actieve participatie van jouw medewerkers en versterkt de Employer Branding. Laat jouw medewerkers spreken namens de organisatie door hen te laten fungeren als ambassadeurs van de organisatie. Dit vergroot de betrokkenheid van medewerkers en versterkt het werkgeversmerk intern. Maak het zo makkelijk mogelijk voor alle direct betrokken medewerkers van de nieuwe functie om de vacature te delen in hun eigen netwerk. Dit kun je doen door 'ready to go social media posts' te maken voor elk social media kanaal waarvan je wil dat ze die gebruiken. Op die manier hoeven ze de post alleen maar te kopiëren en te plakken. Vergeet vervolgens niet om visuals te gebruiken, deze trekken veel meer aandacht dan simpele korte teksten.
Vaak zijn werknemers die hun werkgever aanbevelen trots en enthousiast over de organisatie. Veel organisaties stimuleren dit ook door bonussen te verstrekken. Uit onderzoek is echter wel gebleken dat het verschil van het effect van bedrijven die wel bonussen uitkeren voor referrals en bedrijven die dit niet doen, minimaal is. Een bonus uitkeren aan referrals hoeft dus niet het verschil te maken. Een bonus geeft werknemers daarentegen wel waardering.
Wil je meer informatie over dit onderwerp of onze diensten? Neem dan contact met ons op via de onderstaande gegevens: wij helpen jou graag!
Daniëlle Noordeloos
Online Campagne Marketeer

Yoores Recruitment Solutions
Empowering Recruitment