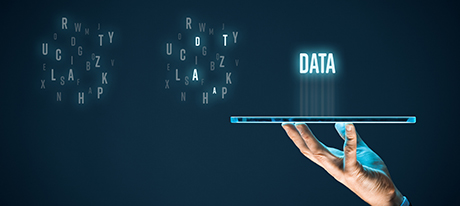 Recruitment kent twee componenten: werving en selectie. Maar hoe gebruik je data om deze processen te optimaliseren? Het gebruik van data blijft cruciaal en kan als hulpmiddel gebruikt worden om doelstellingen te formuleren en het wervingsproces te verbeteren. Door middel van data-driven recruitment wordt het recruitmentproces efficiënter gemaakt, waarbij niet mensen, maar een algoritme bepaalt of een kandidaat geschikt is voor de desbetreffende functie. Deze beslissing is echter niet direct gemaakt. Middels kenmerken en big data kan een algoritme met een cv toptalent binnenhalen. De software neemt dus de eerste stappen van het wervingsproces over. Data-driven recruitment is dé sleutel tot het aantrekken en behouden van toptalent en geeft je inzicht in de effectiviteit van jouw recruitmentproces. Door data en analyses te gebruiken in plaats van traditionele wervingsmethoden en schattingen kan je jouw (diversiteit)doelstellingen makkelijker halen. Daarnaast kan je met data bekijken welke fasen van het wervingsproces goed verlopen en de kandidaten het meest aanspreken.
In de wereld van recruitment zijn we snel overgegaan naar een sterk kandidaat-gedreven markt. Deze significante verandering, van hoge werkloosheid en weinig vacatures naar een periode met meer beschikbare vacatures dan kandidaten, heeft ertoe geleid dat kandidaten het voor het zeggen hebben. Het is dus belangrijk om een efficiënt en meetbaar recruitmentproces te hebben en meer te gaan doen met data. Deze aanpak kan daarnaast ook gunstig zijn voor je selectieproces; deze zal eerlijker en objectiever verlopen, omdat middels data vooroordelen zoveel mogelijk uit het proces verwijderd zijn. Deze aanpak neemt de meeste onzekerheden in het proces weg en zorgt voor meer diversiteit in je werkomgeving.
Wil je nieuw toptalent werven moet er, naast dat je moet letten op data-driven recruitment, ook een duidelijk beeld zijn waar je voor staat en wat je wil bereiken als bedrijf, aldus Lidewey van der Sluis, hoogleraar Strategisch Talentmanagement en Organisatorisch Leiderschap aan de Nyenrode Business Universiteit. Dit is volgens haar de basis, gevolgd door het op zoek gaan naar mensen die aansluiten bij dat toekomstbeeld. Daarnaast is een goed werkgeversmerk gebouwd op een goede employee value proposition, oftewel EVP. In de volgende blog zullen we hier verder op ingaan, dus stay tuned!
Wil je meer informatie over dit onderwerp of onze diensten? Neem dan contact met ons op via de onderstaande gegevens, wij helpen jou graag!
Daniëlle Noordeloos
Online Campagne Marketeer

Yoores Recruitment Solutions
Empowering Recruitment